An Introduction to Waves
Javascripts provided by Rainbow Arch
Wave- disturbance that travels through a medium (matter or space)
Medium- the material waves travel through
Crest- highest point of a wave
Trough- lowest point of a wave
Wavelength- distance between one point on a wave and the same point on the next wave

Amplitude- height of a wave
Frequency- how many waves pass a certain point in a certain amount of time
# waves/time (usu. Seconds)
---
Transverse waves- particles in the medium move perpendicular to the wave

Animation by Dr. Dan Russell
How about the stadium wave? We have a wave traveling through
the medium of sports fans, whereby each vertical row of fans
successively stands, throws their arms up, and sits down.

The stadium "wave" travels all around the stadium.
None of the fans travel around the stadium.
They only stand up and sit down.
That means the movement of the medium (the people)
transects (is perpendicular to) the movement of the wave
making this a Transverse Wave!
---
Longitudinal waves- particles in the medium move in the same direction as the wave
Another great example http://members.aol.com/nicholashl/waves/movingwaves.html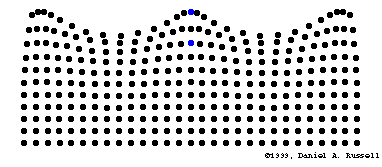 Animation by Dr. Dan Russell
---

Compression- "squeezed together" area in a compression wave

Rarefaction- "Stretched" area in a compression wave
What do waves transfer? Energy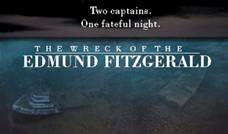 http://home.pacbell.net/chabpyne/wrecks.html
---
Reflection- the "bouncing back" of a wave after striking a barrier
angle of incidence – angle between incoming wave & normal
a "normal" – a line perpendicular to the reflective surface (barrier)
angle of reflection – angle between outgoing wave & normal
angle of incidence = angle of reflection
---
refraction – change of direction when a wave enters a different medium
constructive interference – 2 waves collide and build a bigger wave
destructive interference – 2 waves collide and cancel each other out
---
standing waves – waves that have a part that doesn't move & other parts with increased amplitude
Standing waves are shown on a printed page as a static, or still, diagram. Of course, like all waves, they are dynamic. This Java applet is here to help you understand how a static standing wave diagram is meant to convey the true motions of the standing wave. Understanding Standing Wave Diagrams 1
nodes – points on a standing wave that have no vibration
antinodes – points on a standing wave that have increased vibration
---